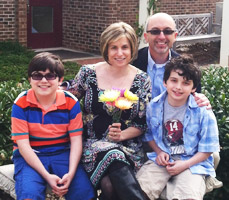 Jim Littleton is the pastor of Holly Springs United Methodist Church. He has been married to Lisa Littleton for 18 years, and they have two sons, Andrew and Reece.
Pastor Jim was raised in Oneonta, Alabama. He grew up in the United Methodist Church and attended Lester Memorial in Oneonta. After college, he was a member of Helena UMC in Helena, Alabama for 16 years.
While at Helena, he served as laity in many areas of ministry: UMYF leader, taught adult Sunday school for 14 years, lead Disciple Bible Study, served as church mission chair, organized home repair ministries, and chaired the SPRC and church council. In addition, he was a certified lay speaker for several years and attended annual conference as a lay delegate.
Pastor Jim graduated from the University of Alabama with a degree in civil engineering. He then received his professional engineering license in both Alabama and Georgia.
As a civil engineer, he worked for several consulting firms. While working as vice president of engineering at CDG Engineers, he felt God calling and preparing him for full-time pastoral ministry. So, he resigned to attend divinity school.
Once Pastor Jim said yes to God's call, he and his family moved to NC so he could attend Duke Divinity School. While living in Cary, they joined White Plains UMC.
As part of Duke's program, he served internships at both Knightdale UMC and the Methodist Home for Children. Pastor Jim graduated from Duke in May of 2014 and the Littleton's are moving to Holly Springs.
In his free time, he enjoys cycling, lifting weights, hiking, taking walks with Lisa, and playing video and board games with Andrew and Reece.
Other Staff